Our Lady of Naju


Julia Kim & Mary's Ark of Salvation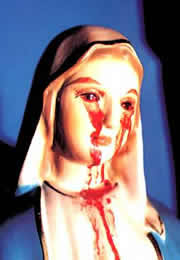 Julia Kim was born in Naju, Korea, in 1947. After marrying her husband, Julio Kim, and having her second child, her health began to deteriorate. During her third pregnancy, she visited a doctor and was informed that the baby inside her womb was dead, and that she needed surgery. In her testimony Julia describes the situation as follows, "The doctor then asked my husband if he wanted me to live or die. I was tied to the surgery table and was operated on. It was the beginning of my sufferings." 1
After her third child was born, Julia became seriously ill with a fever and more abdominal pains. She was diagnosed with inflammation of the pelvis, appendicitis, pregnancy outside the womb, and a fever. After another surgery was performed, Julia continued suffering extreme pain. In her testimony she writes, "About a month after the surgery something was coming out together with blood and pus from where the surgery was done. Rosa, my eldest daughter, was crying loudly and screamed. 'Mommy! Your intestines! What should we do?' We embraced each other and cried. We found out that it was the gauze that doctors forgot to remove during the surgery."
As Julia's pain and suffering continued to escalate for several more years, she visited even more doctors and eventually was diagnosed with cancer. This time the news was too much for her to endure. In a desire to end her life by committing suicide, Julia prepared cyanide, and wrote several good-bye letters to her mother, husband, four children, and whoever might be her husband's future wife.2
Before Julia could fulfill her death wish, her husband took her to a Catholic priest. After hearing Julia's story, the priest consoled her by saying that her sufferings were blessings from God. Afterwards, Julia felt a warm sensation entering her body and soon after she wanted to "live a life of suffering" for the Lord.
After taking vows of suffering, Julia began to receive extreme pain, as well as miraculous signs and wonders. For example, during 1985 Julia's statue of Mary started shedding tears of blood. And in 1995, when Julia was in the process of receiving Holy Communion at an outdoor Mass celebrated near Naju, the Consecrated Host began bleeding in her mouth.3

According to witnesses, the host changed character, transforming itself into what appeared to be a pulsating, living piece of flesh. Witnesses stated that they detected the strong odor of blood in the air when this transformation took place. Upon further inspection of the photographs and video that were taken, it appeared that the flesh was a living, beating heart.
In 1998, Archbishop Victorinus Kong-Hee Youn of the Archdiocese of Kwangju made an official announcement that Julia Kim's messages "lacked genuineness and credibility." He said, "the phenomena alleged to be Eucharistic miracles were contradictory to the doctrine of the Catholic Church," and "various strange phenomena arising from the statue of the Blessed Mother and Julia's body produced no evidence that could prove that they were truly supernatural and thus from God." Archbishop Victorinus Kong-Hee Youn's statement reads as follows:4
KOREA ARCHBISHOP SAYS 'THE MIRACLES' AND MESSAGES OF NAJU ARE NOT FROM GOD
KWANGJU, Korea (UCAN) -- Archbishop Victorinus Youn Kong-hi of Kwangju has declared that so-called "miracles" attributed to the Blessed Mother in Naju city have produced no evidence that "they are supernatural and thus from God."
In his declaration Jan. 1, the Feast of Mary the Mother of God, Archbishop Youn also warned that to consider the alleged events in Naju as supernatural is regarded as "an act of breaking the unity of the faith of the Church."
It said that as the "authentic teacher of the faith and legitimate shepherd," he wished to give priests, Religious and laity in the archdiocese "an authoritative interpretation" regarding the phenomena and messages which reportedly have happened to Julia Youn Hon-san of Naju and her statue of Mary.
The 50-year-old Youn, a mother of four, claimed that many "miracles" have happened in her home in Naju, 25 kilometers south of Kwangju, since June 30, 1985, when Mary's statue shed tears and later gave her "private revelations."
The archbishop said the phenomena, such as Mary's statue shedding tears and fragrant oil, Youn's levitation and vision, showed no evidence that they were supernatural. Instead, the archbishop suggested, "Perhaps they can be said to show some preternatural power."
The so-called "Messages of Our Lady of Naju" that Youn claimed to have come from Mary, the archbishop said, show "several human and artificial elements."
Parts of the contents were copied, plagiarized or cited from other books, while other parts show discrepancies between Youn's handwritten private diaries and the published materials, the Kwangju archbishop said.
He concluded that the messages lack authenticity and credibility and bear no conclusive evidence that they are "private revelations."
Concerning the alleged miracle of the Eucharist falling down from heaven, Archbishop Youn explained that it is "contradictory to the doctrine of the Catholic Church that says only through a legitimately ordained priest's consecration does the Sacrament of the Eucharist begin to exist."
He also denounced Youn's claim of the Eucharist turning into a piece of flesh when she received Communion as against the Church's teaching that while bread and wine become the body and blood of Christ, their species remain.
Based on the investigation results, Archbishop Youn said that publication or dissemination of materials on the Naju events is "officially forbidden," and he called on Catholics to refrain from reading the materials.
He also asked Youn to discontinue the memorial service that is held on the anniversary of the alleged first weeping of Mary's statue, and to no longer spread her personal experiences and the so-called messages of Mary.
Prayer meetings held in Youn's hall that enshrines Mary's statue are forbidden, the archbishop said, while asking the people helping Youn as volunteers to return home and exercise "authentic devotion" to Mary.
He also reminded clergy that the previous prohibition of saying Mass, celebrating liturgy and the Sacraments at any private places related to Youn is still valid.
"Except for the parish priest who has jurisdiction, other priests who have been acting as supporters should now refrain from playing any further role" in the affairs of Naju, said the archbishop's declaration.
The archbishop's directive was read in all parishes of the archdiocese on Jan. 1 and also sent to religious institutes throughout South Korea and to related groups abroad.
On Jan. 8, Brother Raphael Song Sung-hwan, a member of the Order of Friars Minor Conventual and an interpreter for Youn, told UCA News that although Youn will obey the archbishop's directive she will appeal to the Church.
However, the 33-year-old Brother Song said many did not agree with the judgment and theological interpretation of Archbishop Youn in his directive.
He also said that following the directive, some theologians from abroad had sent fax messages expressing their support for Youn and the "miracles."
After Archbishop Victorinus Kong-Hee Youn issued a statement in 1998, additional warnings have been issued by Bishop Boniface Choi Ki-san of Incheon and Archbishop Andrew Choi Chang-mou as follows.5
KOREA Archbishop Choi of Kwangju Issues Ultimatum To 'Miracle' Performer
SEOUL (UCAN) — The head of Korea's Catholic Church has warned a Catholic woman to stop propagating what she claims are private Marian revelations and has directed Catholics not to heed miracles without Church confirmation.
In yet another pastoral directive issued on May 5, Archbishop Andrew Choi Chang-mou of Kwangju, president of the Catholic Bishops' Conference of Korea, said that Julia Youn Hong-sun must not insist on her divine revelations from a Marian statue and that her followers must obey the Church or face censure.
The directive urges Catholics at the alleged Marian miracle site to return to "normal and ordinary Church life" because staying there would "insult" the Church. "I make it clear that any clergy or Religious from any diocese or any country who participates in or presides at liturgical ceremonies at the Marian Shrine or Youn's chapel without permission from the Archbishop of Kwangju is destroying the universal and local Church," Archbishop Choi said.
He urged the Catholics to live their faith in unity and harmony, and to obey their bishop, a successor of the apostles and pastor of their local Church.
The archbishop noted that from Jan. 1, 1998, to April 3, 2005, he and his predecessor issued instructions on the matter three times, but Youn and her followers disobeyed and even challenged the Church by continuing to insist on "private revelations" or "miracles." He said "this clearly shows they (do not) have any intention to maintain normal relations with the universal Church."
Archbishop Choi also pointed out in his directive that between March and August 2003, he directly met Youn and her husband three times at a parish, in a diocesan office and even visited them to discuss the matter. He stressed that his predecessor, retired Archbishop Victorinus Youn Kong-hi, had the agreement of the Holy See and the bishops' conference when he issued a pastoral directive concerning Julia Youn on Jan. 1, 1998.
Father Gabriel Park Chul-soo, the chancellor of Kwangju archdiocese, told UCA News on May 10 that the two earlier pastoral directives did not work, so the third one is a final chance for Youn and her followers to comply. "This pastoral instruction is similar to the previous ones in content but it is more like an ultimatum," he asserted. "If they oppose it again, they can never take part in liturgical ceremonies, including Mass, as Catholics."
If Youn and her followers again ignore or object to the Church's official instruction, Father Park added, they will no longer be considered Catholics but followers of some sort of folk religion.
Julia Youn insists that she has received "private revelations" through her statue of Mary in Naju, 25 kilometers south of Kwangju, ever since it "started weeping" on Jun. 30, 1985. Since then, many Catholics, including several local and foreign bishops, have visited Naju. According to an Internet website devoted to the place (http://www.najumary.or.kr/grace), after Archbishop Youn issued his first directive, two bishops from Indonesia and the Philippines visited there in 2001-2002.
Youn, 57-year-old mother of four, insists that her weeping statue of Mary has even shed tears of blood and fragrant oil, and given her revelations, and that the Host fell "from heaven" several times when visiting bishops and her group were at Mass in her private chapel.
Youn and her group further claim that the Eucharist changed into a lump of bloody flesh in her mouth several times, including once in 1995 when Pope John Paul II gave her the Eucharist at the Vatican. At that time, the pope saw it but said nothing, the Naju website maintains.
Archbishop Choi warns that all who fail to follow his pastoral directive must be considered as intending to oppose the magisterium — the Catholic Church's authority and power to teach true doctrine by divine guidance.
In a letter published on May 24, 2001, the archbishop urged Catholics to "obey the magisterium," and asked Youn and her volunteers not to propagate the so-called miracles concerning her and the Marian statue.
However, 60-year-old Rubino Park Yeon-hun, Youn's manager, disagrees with the instruction issued by Archbishop Youn and Archbishop Choi. Park says, "For us, it is basically invalid because the archdiocese has never investigated our case objectively and failed to bear any witness to its argument."
Park, who has been following Youn for 20 years, told UCA News on May 10: "We cannot follow the pastoral directive because its argument and explanation of the miracle phenomenon of the Eucharist is not true. Since we are Catholics who seek truth, we cannot follow the wrong instruction."
According to him, an average of about 4,000-5,000 people from within the country and abroad visit Julia Youn every month, "though they already know about the instruction." Park also maintains that they visit "just because they know and experience what the truth is here. They are the real faithful."
On Jan. 1, 1998, Archbishop Youn declared that visions and various strange phenomenon emanating from Youn's body and the statue of the Blessed Mother "produce no evidence which proves they are truly supernatural and thus from God." He thereby directed that publication or dissemination of material on the Naju events was "officially forbidden," and called on Catholics to refrain from reading such material.
Notes
Text from the Naju Mary website: http://www.najumary.org/najumary01-julia.html
Text from the Naju Mary website: http://www.najumary.org/najumary01-julia.html
Text from the Naju Mary website: http://www.najumary.org/najumary/najumary.html
Archbishop says 'The Miracles' and messages of Naju are not from God: http://www.ucanews.com/html/ucan/f_dishpatch.asp?ucalang=English_../news_report/english/1998/01/w2/fri/ko9131rw.txt
View a PDF version of Archbishop Victorinus Kong-Hee Youn's statement.
Archbishop Choi of Kwangju Issues Ultimatum To 'Miracle' Performer http://www.ucanews.com/html/ucan/f_dishpatch.asp?ucalang=English_../news_report/english/2005/05/w2/fri/KO8223RA.txt
View a PDF version of Archbishop Andrew Choi Chang-mou's statement.