Mary Ann Van Hoof


Necedah, Wisconsin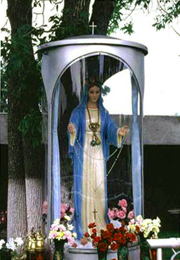 Mary Ann Van Hoof started her career in spiritualism as a medium with the Hungarian gypsies. She came to America with her mother Elizabeth Bieber who also practiced witchcraft with the gypsies. After relocating to Wisconsin, both Mary Ann and her mother attended the Wonewoc Spiritualist Camp, whose members have been associated with psychic readings, spirit guide channeling, and other New Age procedures since its inception.1
Before Mary Ann started reporting claims that the Virgin Mary had been making appearances, the only tourists who visited Necedah were hunters and fishermen. Because of the sandy soil that made it difficult to grow crops, and the lack of industry that was necessary to fuel the economy, this isolated central Wisconsin town of seven hundred people was considered a dying community, according to many of its residents. "What happened here could only happen in a small secluded place," said one of the town's residents. "When people are poor and their town is dying, they're more vulnerable and willing to tolerate someone's claims, no matter how ludicrous, if it looks like a way to turn things around."2
Apparently, Mary Ann had been promising the news media that the Blessed Mother was going to make an appearance on August 15, 1950, to provide another "Miracle of the Sun." After many prominent newspapers and magazines featured the story, an estimated 100,000 people flocked to Necedah. As the great multitude of bystanders began to stare at the sky, some claimed to see the sun spinning and changing colors, while others reported their Rosaries turning a golden color.
This occurrence soon gave birth to a multi-million-dollar industry. Mary Ann began pointing out the Blessed Mother's appearances in the trees, on fence posts, lawn furniture, and every other conceivable place, while her followers began buying land and building homes. Apparently, the Virgin Mary had promised that anyone living within a five miles radius of Mary Ann's farm would be spared on the great day of chastisement. Mary Ann's followers also purchased a print shop and started publishing the messages.
At first the messages called for a return to personal piety, praying the Rosary and devotions to Mary, but they gradually became more political and apocalyptic in nature. Many of the messages contained emotionally charged language condemning the Catholic Church. The spiritual entities who had been delivering the messages said that "30,000 priests in the United States were planted communist spies, and that the US government had been infiltrated by a cunning plot to corrupt the true way, and that Vatican II was false and should not be obeyed."3
Although Mary Ann's followers appeared to represent just another Catholic movement devoted to the Virgin Mary, it quickly developed into what investigations by Church officials and news media determined to be a cult that pitted one neighbor against another, split families apart, and divided Necedah's Catholic parish.
According to Reverend Michael Mertens, pastor of Necedah's Catholic parish, "When you claim to be speaking for the Blessed Mother, you wield an enormous amount of power. A lot of good people got sucked into this because the evil was disguised by a call for prayer and devotions common to traditional Catholics. On the surface, it seemed harmless. Underneath, it was a terrible case of mind control."4
On June 17, 1955, John Treacy, the Bishop of La Crosse, declared that "all claims regarding supernatural revelations and visions made by the aforementioned Mrs. Van Hoof are false. Furthermore, all public and private religious worship connected with these false claims is prohibited at Necedah, Wisconsin."5
On March 29, 1975, Bishop Frederick W. Freking excommunicated and refused the sacraments to anyone who attended, participated in, approved of, associated with, or contributed to anything associated with Necedah, including pageants, prayer meetings, devotions, venerations, visits, meetings, classes, secret meetings, séances, movies, books, or anything else, whether at the shrine itself or away from it.
Mary Ann responded by bringing in her own self-proclaimed bishop from an "Old Catholic Order." He "lifted" all the interdicts and started offering the Latin Mass, but a year later, he denounced Mary Ann and her messages as falsehoods and left the group. A second such bishop, Frank Dibenedetto, replaced him until May 1983. He too left the group and denounced Mary Ann as a fraud.6
The following letter was issued by the Diocese of La Crosse concerning the shrine at Necedah: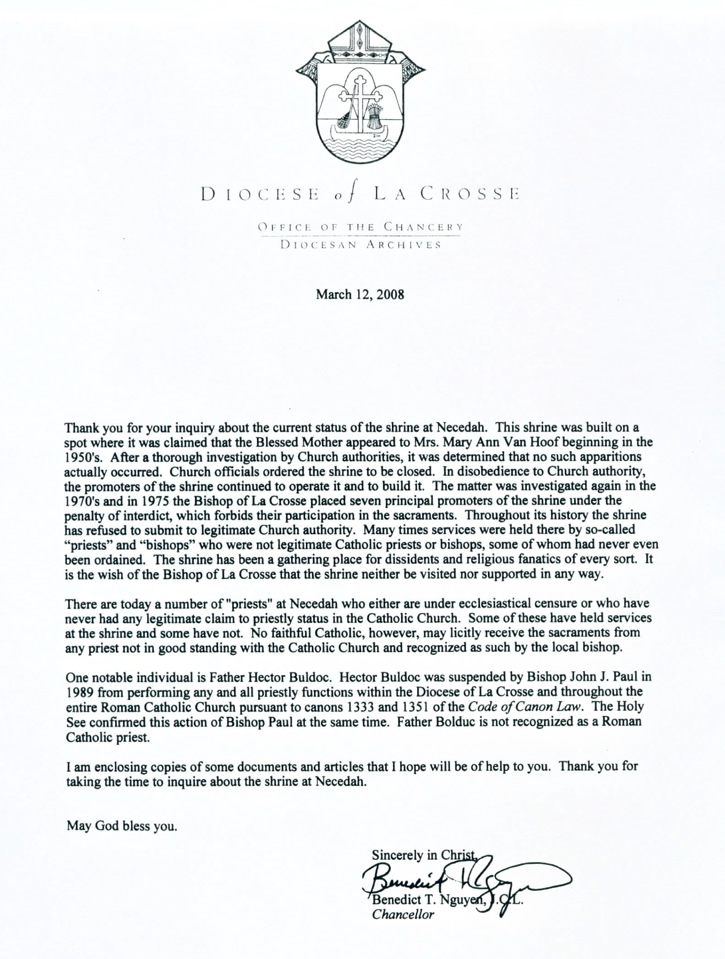 For more information please visit Our Lady of the Holy Rosary - Mary Ann Van Hoof.
Notes
Website for Wonewoc Spiritualist Camp: http://www.campwonewoc.com/id1.html
"Rift, heartache followed alleged peace message," The Milwaukee Sentinel, April 2, 1992, p. 8A.
"Messages" Necedah and Bayside: http://jloughnan.tripod.com/ccfcorra.htm
"Rift, heartache followed alleged peace message," The Milwaukee Sentinel, April 2, 1992, p. 8A.
Statement given at the Bishop's office, 422 Hoeschler Building, La Crosse, Wisconsin, June 17, 1955.
Our Sunday Visitor, August 18, 1991, pp. 6-7.
Letter from the Office of the Chancery, Diocese of La Crosse.