Our Lady of Naju


Julia Kim & Mary's Ark of Salvation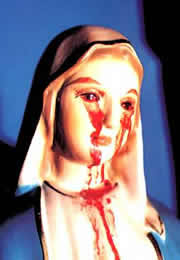 Julia Kim was born in Naju, Korea, in 1947. After marrying her husband and having her second child, her health began to deteriorate. During her third pregnancy, she visited a doctor and was informed that the baby inside her womb was dead, and that she needed surgery. In her testimony, Julia describes the situation as follows, "The doctor then asked my husband if he wanted me to live or die. I was tied to the surgery table and was operated on. It was the beginning of my sufferings." 1
After her third child was born, Julia became seriously ill with a fever and more abdominal pains. She was diagnosed with inflammation of the pelvis, appendicitis, pregnancy outside of the womb and a fever. After another surgery was performed, Julia continued suffering extreme pain. In her testimony, she writes, "About a month after the surgery something was coming out together with blood and pus from where the surgery was done. Rosa, my eldest daughter, was crying loudly and screamed. 'Mommy! Your intestines! What should we do?' We embraced each other and cried. We found out that it was the gauze that doctors forgot to remove during the surgery."
As Julia's pain and suffering continued to escalate for several more years, she visited even more doctors and was eventually diagnosed with cancer. This time the news was too much for her to endure. In a desire to end her life by committing suicide, Julia prepared cyanide, and wrote several good-bye letters to her mother, husband, four children, and whoever might be her husband's future wife.2
Before Julia could fulfill her death wish, her husband took her to see a Catholic priest. After hearing Julia's story, the priest consoled her by saying that her sufferings were blessings from God. Afterwards, Julia felt a warm sensation entering her body, and soon after, she wanted to "live a life of suffering" for the Lord.
After taking vows of suffering, Julia began to receive extreme pain, as well as experience miraculous signs and wonders. For example, during 1985 Julia's statue of Mary started shedding tears of blood; and in 1995, when Julia was in the process of receiving Holy Communion at an outdoor Mass celebrated near Naju, the Consecrated Host began bleeding in her mouth.3

According to witnesses, the host changed character, transforming itself into what appeared to be a pulsating, living piece of flesh. Witnesses stated that they detected the strong odor of blood in the air when this transformation took place. Upon further inspection of the photographs that were taken, it appeared that the flesh was a living, beating heart.
On January 9,1998, Archbishop Victorinus Kong-Hee Youn of the Archdiocese of Kwangju made an official announcement that Julia Kim's messages "lacked genuineness and credibility." He said, "the phenomena alleged to be Eucharistic miracles were contradictory to the doctrine of the Catholic Church," and "various strange phenomena arising from the statue of the Blessed Mother and Julia's body produced no evidence that could prove they were truly supernatural, and thus from God."4
On January 21, 2008, Archbishop Andreas Choi Chang-mou, issued a Decree of Excommunication for all clergy, religious, or laity who participate in the Our Lady in Naju phenomena within the Archdiocese of Kwangju as follows:


For more information please visit Suffering Vows to Become a Victim Soul.