The Poem of the Man-God


Maria Valtorta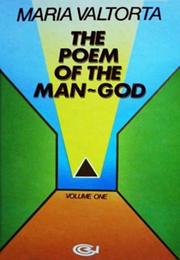 Maria Valtorta was born on March 14, 1897, in Caserta, Italy. After suffering an abusive childhood, which her biography describes as "brushing with death during her birth, Maria remained an only child, having as wet-nurse a wretched mercenary." Her biography continues to describe her childhood by saying, "Due to the habitual despotic attitude of her mother, to which her father responded with meek docility, Maria was painfully obliged to leave her home when she was twelve years old to attend boarding school."1
On January 28, 1925, Maria offered herself as a "victim soul" to the Merciful Love and renewed her vows to suffer every day thereafter. She later offered her life as a "victim soul" to the Divine Justice, and soon she found herself unable to walk without experiencing "extraordinary fatigue." This condition continued until 1933 when she was unable to leave her house, and a year later, unable to leave her bed. During this time, Maria wrote more than fifteen thousand pages that were dictated to her by entities calling themselves Jesus and Mary.2
According to an article by Father Mitch Pacwa, four years after Maria received her dictations, she delivered more than ten thousand handwritten pages to her spiritual director, Father Romuald Migliorini, O.S.M. A year later, Father Migliorini along with another priest, Father Corrado Berti, O.S.M., scheduled a private audience with Pope Pius XII to seek his counsel concerning Maria's private revelations.3
After the meeting, Father Berti stood in Saint Peter's Square and wrote down Pope Pius's words as he remembered them: "Publish this work as it is. There is no need to give an opinion about its origin, whether it be extraordinary or not. Whoever reads it, will understand. One hears of many visions and revelations. I will not say they are all authentic, but there are some of which it could be said that they are."
Confident that he had obtained the Vatican's approval for publication, Father Berti delivered the manuscript to the Vatican press. In 1949, however, two commissioners from the Holy Office, Monsignor Giovanni Pepe and Father Berruti, O.P., condemned the work and ordered Father Berti to sign an agreement not to publish it. Instead of surrendering the copies as requested, Father Berti returned the original manuscript to Maria. About three years later, Father Berti violated the signed agreement by presenting the material to another publisher. Although the new publisher was fully aware of the Holy Office's opposition, this company printed the first volume in 1956, and produced a new volume each year until 1959.
After the fourth volume appeared, the Holy Office examined The Poem of the Man-God and condemned it, recommending that it be placed on the Index of Forbidden Books on December 16, 1959. The condemnation was signed by Pope John XXIII and published in L'Osservatore Romano on January 6, 1969, along with an article entitled "A Badly Fictionalized Life of Jesus."
The Poem of the Man-God is now available in twelve languages and is being promoted at unapproved apparition sites all over the world as the "bible" of the modern visionary movement. For example, on January 27, 1988, one of the visionaries from Medjugorje, Vicka Ivankovic, said, "Our Lady said if a person wants to know Jesus, he should read The Poem of the Man-God by Maria Valtorta. That book is the truth."4
This message creates a serious problem because either the Holy Office of the Catholic Church is wrong for condemning The Poem of the Man-God, or the spiritual entities that have been delivering messages to the visionaries at Medjugorje are not coming from God. Taking into account that The Poem of the Man-God is riddled with serious theological errors, it is safe to assume the messages are not coming from God.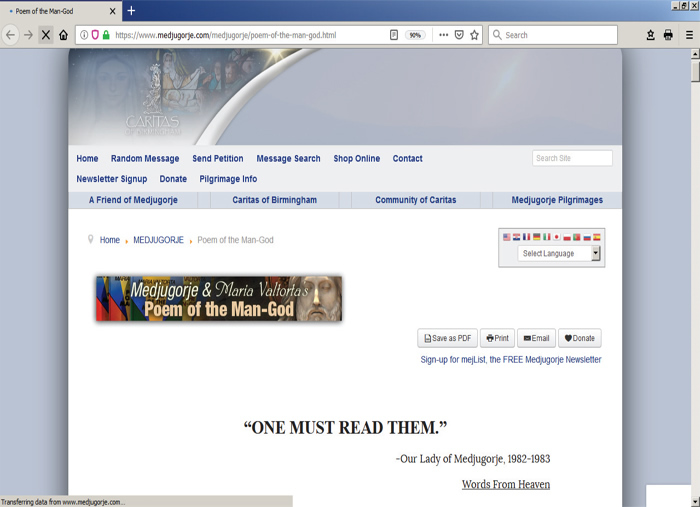 For more information please visit The Poem of the Man-God - Maria Valtorta.
Notes
Maria Valtorta, The Poem of the Man-God (Isola del Liri, Italy: Centro Editoriale Valtortiano, 1986), p. iv, "Birth and Childhood."
The Poem of the Man-God, p. vii, "Offering to Justice and Complete Infirmity."
"Is 'The Poem of the Man-God' simply a Bad Novel?" by Father Mitch Pacwa, S.J. http://www.ewtn.com/li brary/script ur/valtorta.txt
View a PDF version of Father Mitch Pacwa's article, "Is 'The Poem of the Man-God' simply a Bad Novel?"
Quote from an article entitled Maria Valtorta's Poem of the Man-God and Medjugorje section entitled, "Seers claim the BVM ok'd 'Poem'" http://jloughnan.tripod.com/valtmedj.htm