Saint Charbel Community


William Kamm — The Little Pebble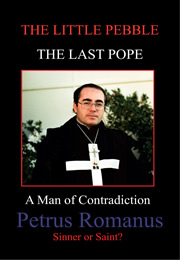 William Kamm was born in Cologne, West Germany, during 1950. According to published documents, William first started having mystical experiences with the Blessed Mother in 1968, at the age of eighteen. Soon after he founded the Marian Work of Atonement organization in Australia in 1970.1
In 1982 William received the name "Little Pebble," perhaps in reference to Saint Peter, The Rock upon which the Catholic Church was founded. On numerous occasions, Kamm has promoted messages suggesting he was going to be the next pope.2
According to the "official website" for the Little Pebble, the Blessed Mother started making apparitions to William at a site near Nowra, New South Wales, Australia. To date, there have been more than six hundred public messages given to Kamm which in turn have been circulated by numerous promoters throughout the world.3
In October 2005, William Kamm was sentenced to five years in prison for sexual attacks on a fifteen-year-old girl. The assaults occurred when the girl was living within Kamm's Order of Saint Charbel Community near Nowra, New South Wales. Kamm claims to have received advice from the Blessed Virgin Mary that the girl should be chosen as one of his 12 Queens and 72 Princesses who would all become his wives, with whom he would spawn a new human race after the world had been cleansed by an end-time disaster.
Kamm tried to defend his acts of polygamy in court by claiming Mary had instituted him to become the "New Abraham" thus spawning a numerous people. Apparently, the Virgin Mary also gave permission to the fifteen-year-old girl to have an "intimate union" with Kamm after he appointed her as one of his queens.
The young girl told the court that Kamm had a secret diary in which his followers would ask questions from the Mother of God. The young girl petitioned Mary through this diary in July 1993 seeking guidance. Afterward, she received instructions from Mary that she should serve as one of Kamm's spiritual wives and eventually spawn a holy tribe.4
After losing an appeal, Kamm has been sentenced to the maximum of ten years in prison with a seven-and-a-half-year non-parole period. He will not be eligible for release until April 13, 2013.
In June 2003, the Bishop of Wollongong, Peter W. Ingham, issued a decree of excommunication for Father Malcolm Broussard, William Kamm, and all other members associated with the Saint Charbel Community.5 The decree of excommunication reads as follows: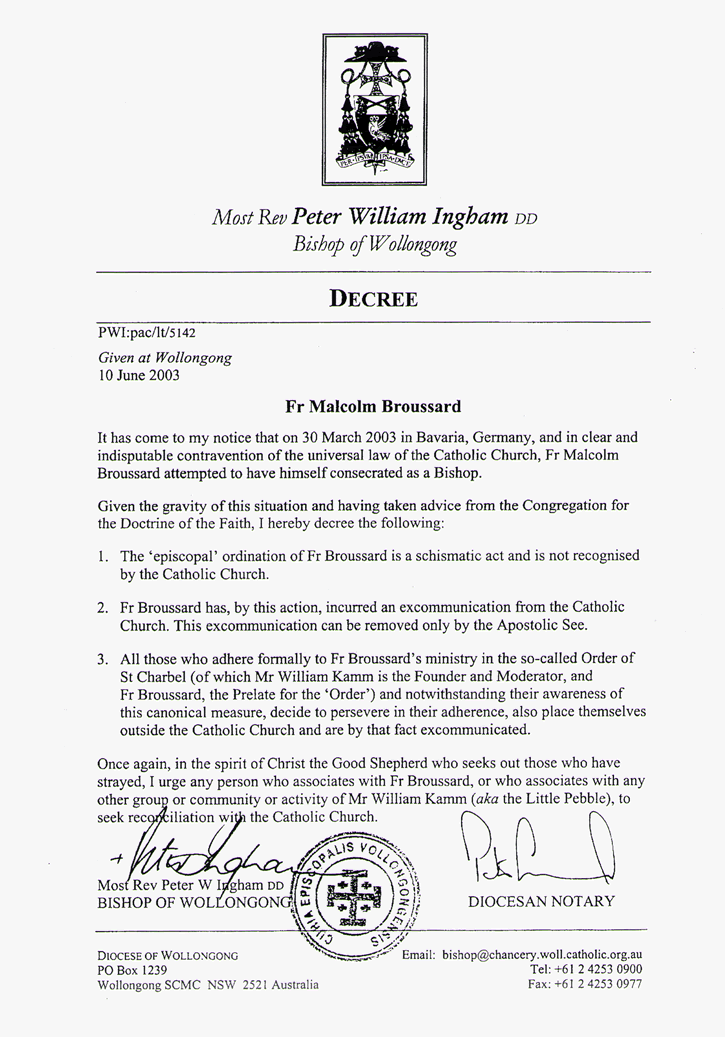 For more information please visit Order of Saint Charbel - William Kamm - The Little Pebble.