Theresa Lopez


Mother Cabrini Shrine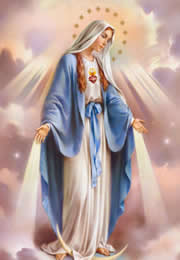 A housewife from Denver, Colorado named Theresa Lopez had visions of Mary and promised an apparition. Six thousand of the faithful stared up at heaven near Lookout Mountain. People thought the sun was spinning in the sky. Some of them stared directly into the blazing light.
Theresa Lopez said she saw the Virgin "wearing a gold gown, surrounded by pink, sparkling lights." A few others saw what appeared to be spectacular signs in the heavens, but the vast majority only saw the blue sky and bright sunlight.
When the day was over, one woman named Kathy left Mother Cabrini Shrine disillusioned. She had brought her two-year-old son, who is mentally and physically disabled, because she thought the Virgin would help him.
Now yellow and green dots dance before her eyes. A doctor told her that when she stared at the sun, she burned both retinas in her eyes and damaged the central line of vision. "I go up there to pray with one disabled member of my family and come home with two," she said bitterly. "I'm done praying. In a way, I'm angry with God."1
Denver's Archbishop, James Francis Stafford, advised Catholics to stop going to the shrine in hopes of visions. He warned the faithful about unreliable "private revelations" and appointed a committee to examine Theresa Lopez's alleged apparitions.
The following declaration is the result of Archbishop James Francis Stafford's commission:
DECLARATION CONCERNING ALLEGED APPARITIONS
OF THE BLESSED VIRGIN MARY AT MOTHER CABRINI SHRINE
AND OTHER PLACES IN THE ARCHDIOCESE2
On December 9, 1991, I appointed a commission to investigate alleged apparitions of the Blessed Virgin Mary at Mother Cabrini Shrine and other places within the Archdiocese of Denver to Theresa Antonia Lopez. On February 22, 1994, the commission completed its investigation and presented its findings to me.
As Archbishop of Denver, I have concluded that the alleged apparitions of the Blessed Virgin Mary to Theresa Antonia Lopez are devoid of any supernatural origin.
Because of my concern for the spiritual welfare of the people of God, I direct the faithful to refrain from participating in or promoting para-liturgical or liturgical services related to the alleged apparitions.
Furthermore, anyone encouraging devotion to these alleged apparitions in any way is acting contrary to my wishes as Archbishop of Denver.
It remains my constant hope that all the faithful will promote devotion to our Blessed Lady in the many forms which have been approved by the Catholic Church.

James Francis Stafford
Archbishop of Denver
March 9, 1994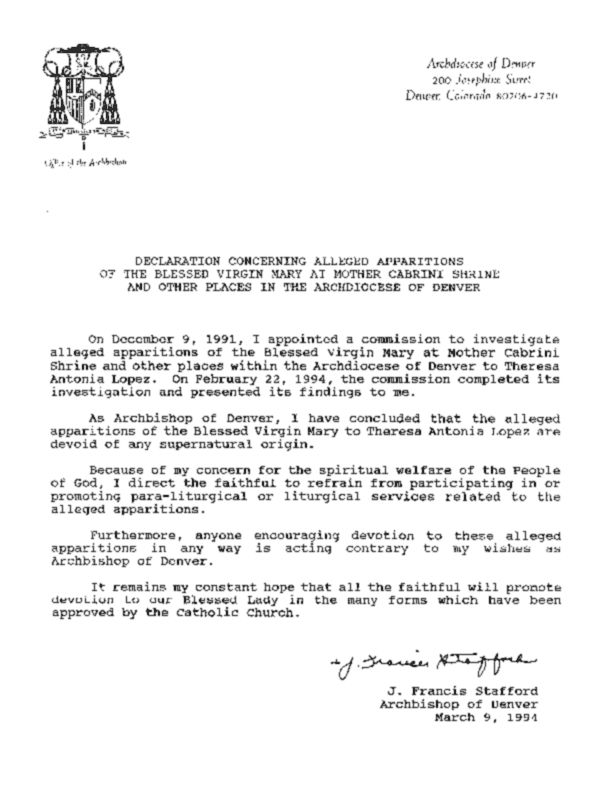 For more information please visit Communicating with Ghosts, Phantoms & Other Spirits.
Notes
"How To Believe in Miracles," By Lance Morrow, December 30, 1991: http://www.time.com/time/printout/0,8816,974553,00.html

Declaration concerning alleged apparitions of the Blessed Virgin Mary at Mother Cabrini Shrine and other places in the Archdiocese: http://www.miraclehunter.com/marian_apparitions/statements/denver_statement.html
View a PDF version of Archbishop Francis J. Stafford's statement